Culver, Nussle clash in debate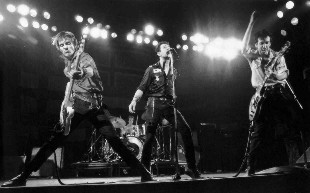 Strummer with running mate Mick Jones and campaign manager Paul Simonon
The Gazette headline gives me a bizarre vision of Joe Strummer's punky ghost debating Culver and Nussle... Strummer would be the clear winner in that exchange despite his untimely demise, but let's look at what really happened:
Beaumont: Bias talk sharpens at debate

DI: Culver, Nussle exchange jabs

So two combative metaphors and two "they had the minority sponsored debate" leads. No one liberated Poland. We didn't hear:

I know Ted Kennedy. I campaigned with Ted Kennedy. My dad roomed with Ted Kennedy. Congressman, you're no Ted Kennedy.

Well, maybe that wouldn't work. But Ted Kennedy seems to be the GOP's latest Mark Foley defense:

When Kennedy came to Connecticut last week to help Diane Farrell campaign, Rep. Christopher Shays hit back.

'I know the speaker didn't go over a bridge and leave a young person in the water, and then have a press conference the next day,' said Shays, referring to the 1969 incident in which the Massachusetts Democrat drove a car that plunged into the water and a young campaign worker died.

'Dennis Hastert didn't kill anybody,' he added.

Back in Iowa, Rasmussen has a new poll:


It's tied once again, 42% to 42% When leaners are added in the mix, Nussle has 45% and Culver 44%.

The classic squeaker race that gets decided by motivation and get out the vote.


---


Mark Warner is out. I completely missed that surprise in my in-box yesterday. Various on-line speculation: helps Edwards is near unanimous, a couple folks mention helps Bayh, helps Richardson, hurts Clinton. Kos:

Hillary will do best if the field remains cluttered with a ton of men. That way, she can win primaries with 30 percent of the vote. If the field narrows quickly, she'd be in trouble.

Can't find it on line, but Olbermann last night quoted Al Gore equivocating to a French publication about will he or won't he...