Braley to Energy and Commerce Committee?
This week's palace coup in the halls of Congress may put Iowa's Bruce Braley on one of the House's most powerful committees.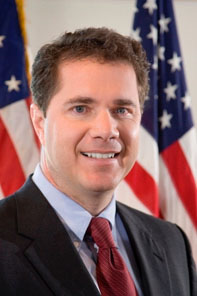 Braley was a key backer of California Rep. Henry Waxman, who overthrew Michigan's John Dingell as chair of the House Energy and Commerce Committee. The vote was a big win for alternative energy, climate change control, and for Speaker Nancy Pelosi, and a loss for the auto industry, the seniority system, and Iowa caucus enemy Dingell.
Braley's reward may be a seat on Energy and Commerce, a real plum for a second-term member.
The Hill
reports that the expanded Democratic majority will mean up to five additional Democratic seats on Energy and Commerce, and Braley is the only name specifically mentioned.
If the appointment happens, Braley will likely be a key ally to new chairman Waxman. Most current committee members, wanting to avoid alienating Dingell and hold on to their subcommittee chairs, voted for Dingell, but they were outnumbered by the rest of the House Democratic Caucus.
Another interesting shift: Dingell is likely to seek the chair of the panel's Health subcommittee, in a move that will play to his strengths while avoiding his conflicts with the majority of House Democrats. As chair of the full committee, Dingell was out of line with most Democrats in blocking climate change and fuel economy legislation at the behest of his district's auto industry.
But Dingell has been a solid progressive on health care throughout his five decades--you read that right,
five decades
--in Congress, and will likely be a key House player on the issue as the Obama Administration pursues the issue. John Dingell has just suffered a major, humiliating defeat, but a health care win could close out his career with a victory that has eluded Democrats going back to Harry Truman.