Music, food, speech, speech, food, music, speech, food. That's the logistics of Labor Day for labor-Democrats, with too many events to get to and not enough time to get to them all. That's why, despite my early arrival, I got just a glimpse of Dave Loebsack leaving the Iowa City Labor Day picnic on his way to the Quad Cities.
The two leading Democratic candidates for governor, Jack Hatch and Tyler Olson, both spoke to a peak or near-peak crowd. The third wheel, Bob Krause, had three different stops penciled in.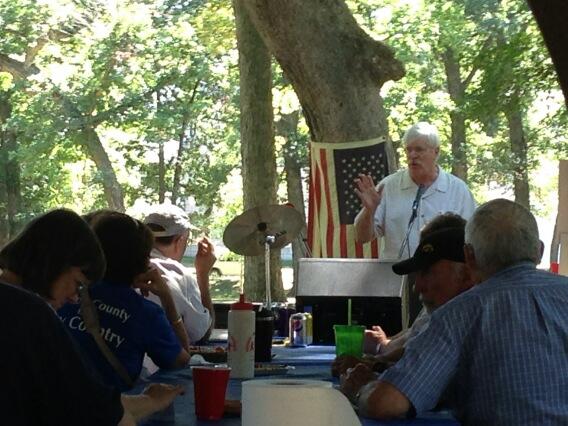 "In Johnson County you have one of the largest and strongest public employee unions in this state," said Hatch, "and that's under attack by this administration."
Hatch spoke of a "prosperity not just of the economy, but a prosperity of the soul, of the heart."
"Economic development is not just about tax breaks to big corporations," said Olson. "The governor believes we should compete on cheap, on low wages."
"We're partners with the IBEW" in his family electrical business, said Olson, "and it means we're committed to making sure everybody gets a fair wage for an honest day's work, and that local people are doing the work."
Most of the tableside chatter centered around a different election: the school board vote a week from tomorrow, and there wasn't much consensus. Five candidates spoke: Jim Tate, Tuyet Dorau, Jason Lewis, Phil Hemingway, and Sara Barron. Only Tate, and the the absent Karla Cook, are labor endorsed.
Iowa City Federation of Labor president Pat Hughes said the four non-endorsed candidates all submitted good surveys and City Fed had a tough time choosing a third candidate in the vote for three race, and in the end couldn't choose. "We're fortunate to have so many people in this community running for such a thankless job." (A sixth Iowa City school candidate, Brian Kirschling, was a late arrival.)
Dorau took a moment to plug the PPEL and the Kirkwood levy. Also on hand were incumbent Patti Fields, who's not up this year, and Mike Owen, seeking re-election to the West Branch school board.
Labor has not yet endorsed for the November 5 city election. Two Iowa City council candidates spoke: Kingsley Botchway in the at large race and District B candidate Royceann Porter.
"We're very downtown centered," Botchway said of the current council. "We need to expand that discussion to everybody in Iowa City."
Porter said her priorities are living wage jobs affordable housing and a better quality of life. "People call me a community activist - I just want to get involved in doing what's right."
Other politicians spotted: from the legislature, Bob Dvorsky, Joe Bolkcom and Mary Mascher. The four Democratic supervisors - Pat Harney, Terrence Neuzil, Janelle Rettig and Rod Sullivan - were all on hand, along with city council member Jim Throgmorton. (Oops: missed late arrival Mitch Gross of the Coralville council.)
Ed Flaherty of Veterans for Peace spoke against US involvement in Syria, and representatives were on hand from Move To Amend, the group working to overturn CItizens United with a constitutional amendment.
Also speaking was Pauline Taylor, a nurse representing SEIU. "We've come a long way with Obamacare," she said. "We can't afford to let the insurance companies take over again."
Jesse Case of the Teamsters took issue with an editorial published by the Press-Citizen today from Mark Mix, president of the National Right to Work (sic) Legal Defense Foundation. It's headlined "
It's 'Labor' Day, not 'Union' Day
."
Case's own editorial
ran alongside Mix's, but his response to the union crowd was more concise. "Bullshit. Labor Day
IS
Union Day,"